Painting floor markings, poles, lamps and fences has been in our range since the very beginning of the company's operations. With an experienced team, machinery and ecologically friendly paints, we provide all types of markings on floor surfaces, painted all poles and fences.
Painting services we provide:
pole painting,
painting floor markings,
painting road markings,
painting tunnels.
An integrated design and the use of quality materials and colors are guaranteed.
We want to make the client's work as easy as possible and thereby also reduce investment costs, so with our experienced teams and machinery, we ensure the execution of the construction work required for the installation of new lamps, or the construction of various buildings:
new lighting construction,
reconstruction of cable lines,
execution of concrete anchors,
removal and demolition,
other construction services.
We also have a lot of experience with domestic and foreign ESCO projects.
The ESCO model has many advantages:
partial or 100% financing of the investment,
the investment is not recorded in the customer's balance sheets,
guaranteed energy savings,
comprehensive implementation of energy renovation "turnkey", which allows clients to focus on their core business.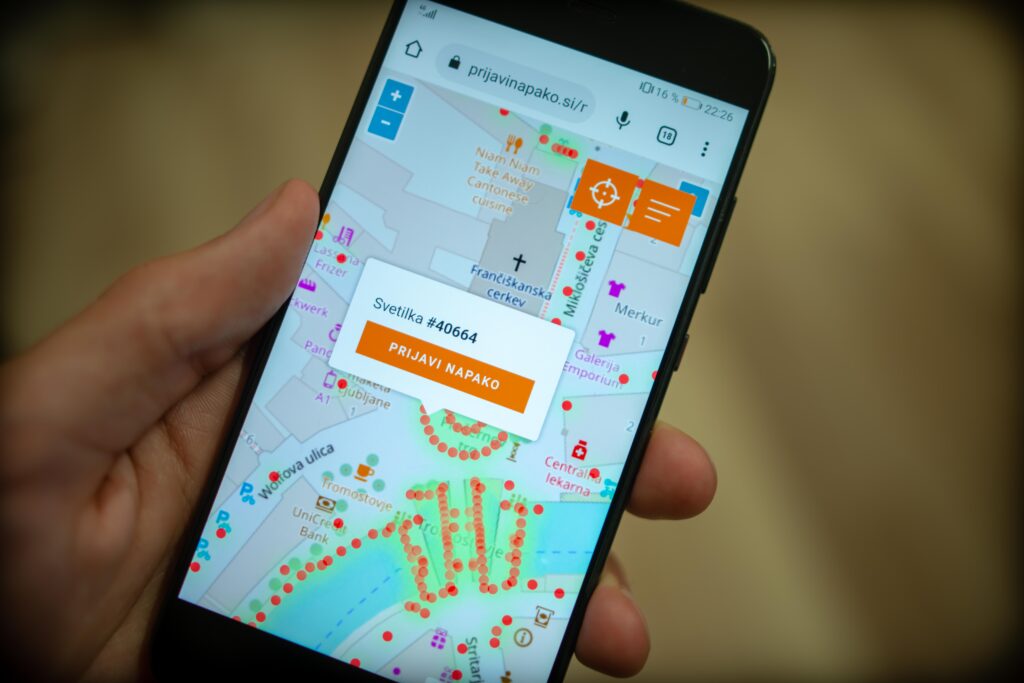 COLLECTION AND REPORTING OF ERRORS
Since 2013, the company Javna razsvetljava d.d. administers the error reporting system – prijavinapako.si.
The system allows anyone to report a non-functioning or defective lamp, which is under the auspices of our company's management, via mobile phone and website.
We are aware that the reporting of errors by citizens is of vital importance, as citizens notice a non-working lamp more quickly and thereby contribute to a more orderly, safe and friendly society.
We are not only distinguished by our work with public lighting, but also carry out interior lighting projects. Our rich knowledge and experience enable us to fully carry out electrical installations in indoor facilities.
In the interior installations, we also take care of the smart management of lighting and installations, which enable us to control lighting, blinds, partition walls, as well as the wiring of electrical cabinets and motor drives.
Our experience with indoor installations ranges from:
residential buildings and internal installations,
pumping stations,
objects with motor drives,
railway stations,
hall,
warehouses,
hospitals,
schools and kindergartens.
ELECTRICAL AND LIGHTING MEASUREMENTS
An experienced team of measurers performs all types of electrical and lighting technical measurements, which are absolutely necessary for handing over the project, ensuring operational safety and checking the actual situation in the field.
In addition to measurements as part of the project, we also carry out independent measurements of other buildings upon request. Public lighting measurements are our main area, but we also perform measurements in indoor facilities, sports facilities, railway facilities, office buildings and various workplaces.
All types of measurements are performed with laboratory calibrated equipment that offers very accurate results.
REPLACEMENT OF LIGHTING IN ACCORDANCE WITH THE REGULATION ON LIGHT POLLUTION
The regulation provides for the protection of nature from the harmful effects of light pollution, the protection of living spaces from disturbing illumination due to the lighting of uncovered surfaces, the protection of people from glare, the protection of astronomical observations from the glare of the sky and for the reduction of the consumption of electricity from light sources that cause light pollution.
We are aware of the importance of preserving the natural environment, which is why all new public lighting and the lighting of outdoor facilities and sports areas is harmonized with the regulation.
MANUFACTURE OF OWN LAMPS​​
In the company Javna razsvetljava d.d. we also manufacture our own lamps. The lamps have a high quality of workmanship and materials. The lamps we manufacture are mainly intended for the old town core, parks and walking paths.
The lamps comply with regulations on light pollution and meet all standards of European and Slovenian compliance rules.
We offer several different types of lamps for outdoor use, especially decorative lamps. The lamps are made in Slovenia, developed and manufactured right in our company.